Reading
At Purley Primary School we strive to create a text-rich environment for all of our children which appeals to their interests. We have a variety of reading schemes, which include Oxford Reading Tree and Big Cat and these books are colour banded according to difficulty throughout the school. There is a range of fiction, non-fiction and poetry in all of the colour bands. This allows our pupils to have breadth and choice with their reading material. Alongside these home reading books children participate in guided reading sessions which promote and practise the higher order reading skills. Children are prepared to answer a variety of question types, such as inference and deduction, skimming and scanning, information retrieval and the ability to read texts critically.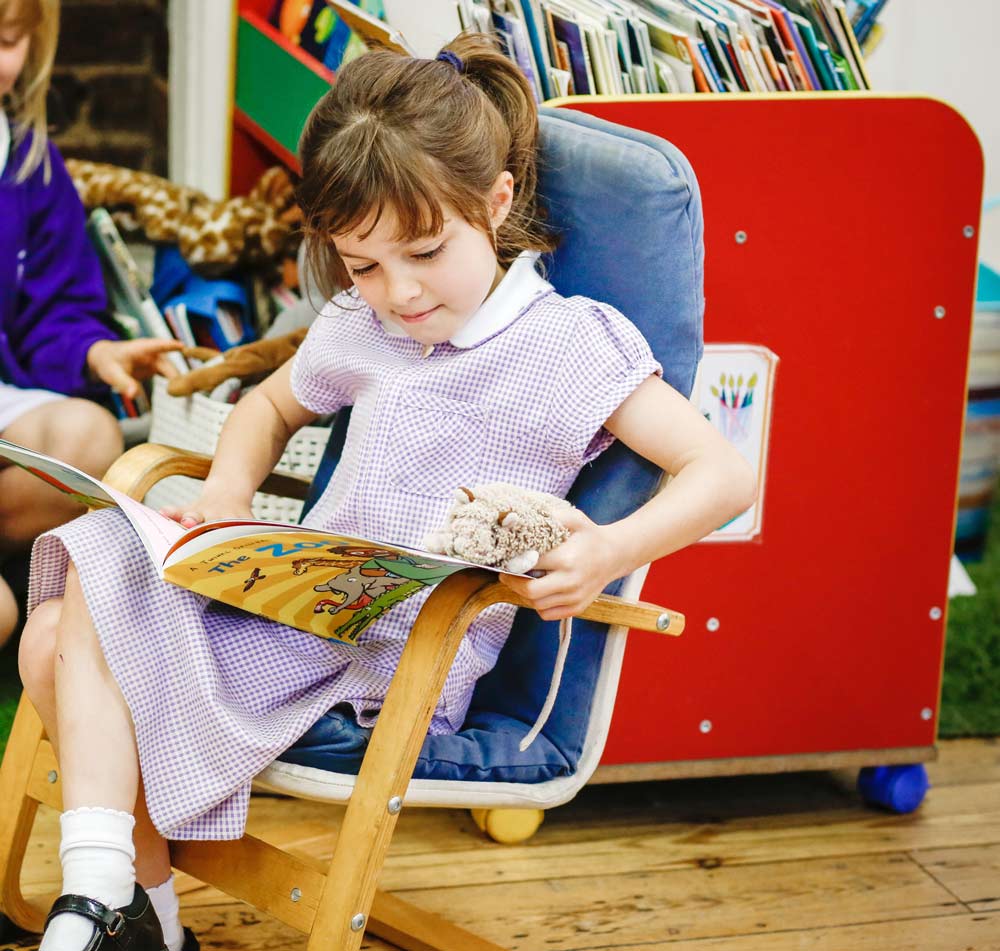 Reading is carefully monitored and children are encouraged to read for understanding and pleasure. The children participate in high quality discussions and make predictions based on what they have read. As children's reading skills develop, they learn to read for information from the wealth of books in classrooms or the school library.
VIPERS is a mnemonic to aid adults facilitating the reading process as well as acting as an aid for the pupils.
VIPERS is based on 6 key reading/comprehension skills:
Vocabulary
Inference
Prediction
Explanation
Retrieval
Sequence/Summarise
Please click on the appropriate file below to open up the useful sets of question stems for each of the VIPERS. These can be downloaded for your use at home to support your child with their reading comprehension skills
Supporting Your Child's Reading
We all know that reading is fundamental to the development of children. Countless research shows the links between good reading skills from an early age and future success in life. However we also know it can be hard to get children really excited by books, given the many other exciting leisure time activities fighting for their attention. Obviously having books they like is a great start but here are a few terrific tips for nurturing your child's interest in reading:
Reading should be a shared experience between parent and child in order to ensure a love of books from an early age.
Ensure your child sees you reading regularly whether it's a book, a newspaper or a magazine as it will instill a love of reading for pleasure.
Let your child help you choose the books you read together. If your child doesn't like a book, don't force him or her to read it. Let them put it down and come back to it after reading something else.
Read in a place that's comfortable for both you and your child. During and after reading a book talk about the story and take time to discuss the ideas in the book in order to ensure a greater understanding.
Give your child plenty of praise while reading. If they have a favourite book or author let them read them again and again but also introduce an author or book similar in style. The Like-for-Like feature on the LoveReading4Kids website will help here.
Enjoy online time with children as much as watching TV with them. Specialist websites like LoveReading4Kids are not only fun for online browsing, but have developed specialist tools such as the facility to download free Opening Extracts and search for an author in the- If They'll Like…They'll Love function.
Remember there are whole rafts of children's books written by great authors especially for them. These days, children don't have to be forced to read Dickens or Bronte. Harry Potter is not alone!
Above all, make reading fun.
LoveReading4Schools is the biggest and best recommendation site for children's books. The Editorial Experts have worked hard to produce a series of comprehensive lists for readers of all year groups. Their overall mission is to promote reading for pleasure with quality texts that are perfectly pitched for the age group and the curriculum. They have particularly avoided blockbusters, classic or set texts, known to everyone, so that they can include poetry, stunning information texts and inspirational books in which all children and young people can find themselves reflected. These are updated every academic year.
As a sister site LoveReading4Kids was launched in October and they offer a variety of FREE services for parents and anyone who is interested in buying the best books for boys and girls of all ages. This site includes a brand new KIDS' ZONE, an area designed specifically for children with competitions, quizzes and additional book related content.
Browse reading lists from lovereading4schools using the link below to help choose exciting and new literature for your child: